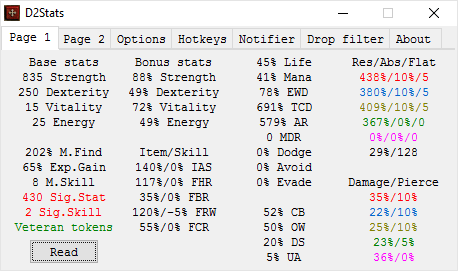 D2Stats Reader
Author

Kyromyr, wojen616

Version

3.11.5

Shows various stats that aren't displayed on the character screen, hides useless items, customisable item drop notifier, automatically enable /nopickup.

Press INSERT to copy item stats to clipboard, and DELETE to display its ilvl.
Press HOME to always show items on ground. Press again to disable.
Press SHIFT-HOME to to hide/show useless items.
Hover the mouse over abbreviations to show their meaning.

This version only works on Median XL: Sigma.
Run as administrator!
---
---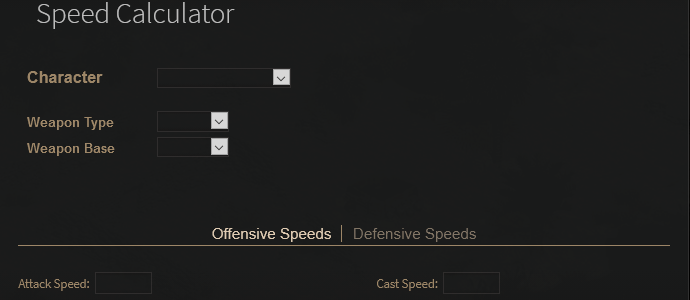 Speed Calculator
Author

suchbalance

Version

1.0

This tool enables you to calculate all your character's speed breakpoints in a simple, straightforward manner.
---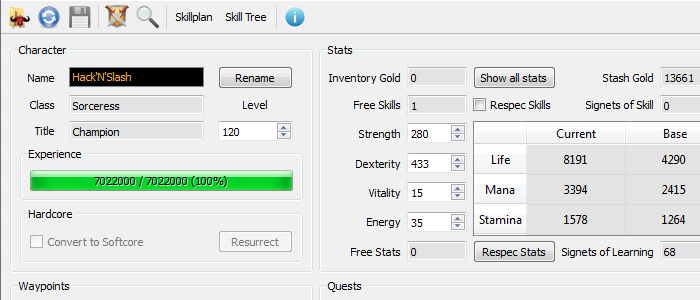 Median XL Offline Tools
Author

kambala

Version

0.6.3

Median XL Offline Tools adds a nice way to manipulate character save files. It enables users to respec, rename, convert and downlevel characters. Also allows viewing, searching and mass disenchanting items, as well as sorting stash.
---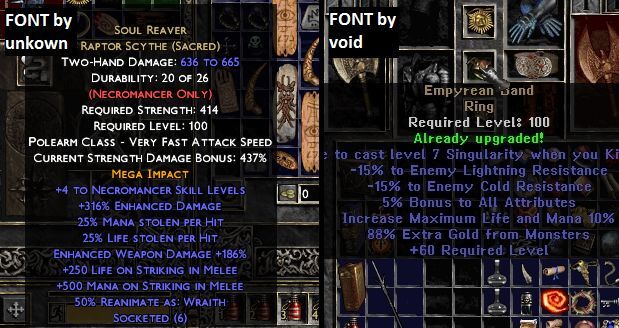 Custom Fonts
Author

Unknown

Version

1.0

This unofficial "patch" allows you to replace Diablo II font with a more readable one. Instructions are in the readme.

YOUR GAME MAY CRASH WITH LINE ERROR 1383 WHEN VIEWING CERTAIN ITEMS. USE AT YOUR OWN RISK.
---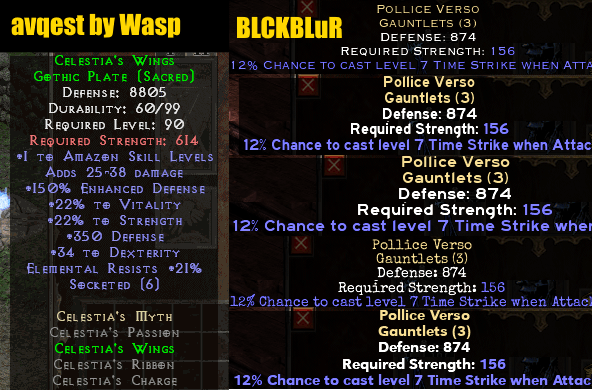 Avqest and other fonts
Author

Wasp

Version

1.0

Avqest is brand new font very similar to the original game's font, that's very readable. Instructions are in the readme.
---
Author

BLCKBLuR

Version

1.0

English Only Custom Fonts by BLCKBLuR.
---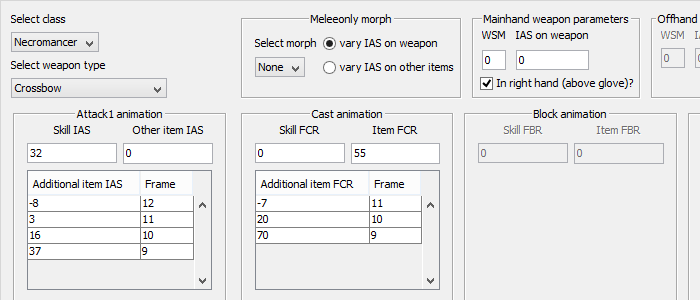 ---